ECG


Bezig met laden...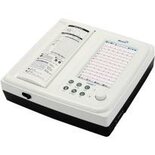 Cardio 7, 12 Lead ECG toestel
• 12Ch resting ECG
• 7" wide & clear color TFT LCD screen(800X480) with 12ch preview
• Touch screen operation (Full alphanumeric keyboard support)
• Diagnosis level from adult to pediatric (All ages)
• One touch operation for analyzing, storing and printing result within 3 seconds
• Long term ECG recording for up to 10 minutes & Automatic arrhythmia detection
• USB Memory Storage, USB Barcode Scanner and USB Keyboard support
• HRV(Heart Rate variability) Analysis
• Various standard file formats (JPG, PDF, XML, MFER, DICOM)
• Direct and bidirectional connectivity with PACS (Optional)
• Spirometer function available (Optional)

User Convenience
- Lead fault & pacemaker detection
- QRS sound available
- Full disclosure function (To check the suspected ECG data which might have been missed.)
- Change printing quality & quick printing option
- Local language available (CHA, ENG, FRE, GER, ITA, POL, POR, ROM, RUS, SPA, TUR)

High-performance Measurement
- 12Ch resting ECG with 130 kinds diagnosis
- Accurate interpretation with advanced Minnesota code
- Special report for detailed interpretation

Data management
- Built-in memory for data storage (200 cases) & external USB memory storage
- Free S/W upgrade by USB memory
- Connection to data Management software BMS-Plus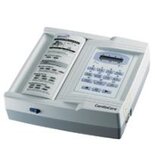 Cardiocare 2000, 12 lead ECG toestel
- Convenient A4 size print-outs allow easy chart filing
- Various recording channel forms available
- Fax paper can be used with grid function
- One-touch operation (monitoring, recording mode)
- Accurate simultaneous 12 channel cardiac data acquisition
- Over 120 kinds of interpretation results based on advanced Minnesota code
- High-Quality 12ch interpretive ECG
- Free S/W upgrade via USB

BMS-Plus is an ECG software program that enables you to interface CardioCare 2000 to Windows-based computers through LAN. The ECG data from CardioCare 2000 is saved in either Bionet's proprietary file format (.ecg), JPEG or PDF. The JPEG file format ensures compatibility with most EMR packages. BMS-Plus displays real-time ECG data on-screen, instantly performs a full set of measurements, and offers diagnostic aid. In addition, BMS-Plus can eliminate the need for costly thermal paper by printing a variety of comprehensive reports on standard printer/copier paper.