actiCAP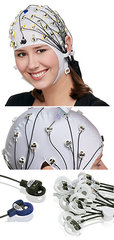 actiCAP slim and actiCAP snap – The next generation active electrode* system
The actiCAP is the go-to solution for reliable and flexible high-quality EEG recordings. We kept on improving the design of our active electrodes* and here present the latest version: actiCAP slim and actiCAP snap.

actiCAP active electrode features at a glance:
Higher impedance recordings – Active circuits for impedance conversion are integrated directly in the actiCAP slim electrodes. Impedance conversion already at the electrode level makes it possible to achieve outstanding signal quality even with higher impedances compared to conventional passive electrodes. Hence the preparation time per electrode is reduced tremendously.
Wide hardware compatibility – connect actiCAP to any Brain Products amplifier and nearly all existing competitor research EEG amplifier systems.
Per-electrode LED impedance feedback* – Multi-color LEDs in the electrodes indicate the impedance ranges. This makes electrode preparation very convenient and fast, since the feedback is given directly at the electrode level without the need to look at a computer screen (e.g. 64ch in approx. 10 minutes).
Easy electrode replacement – actiCAP electrodes are very sturdy; however, in the event that an actiCAP electrode fails, flawless replacement of single electrodes is possible.
The acticap electrodes are compatible with actiCHAMP and LiveAmp. With the Acticap Control Box, the acticap can work with any standard EEG system, and ofcourse Brainamp
Geen producten